Dungeon of Revival is a 3D action Ryona game set in an ancient Egyptian-style world.
Story

Eliza, a lowly priestess, comes to the "Great Pyladim of the Cats" to check on her sister's safety.
But, the priests were exposed to the cruel wreckage. And The inside of the pyladim had turned into a demon cave infested with thieves and monsters.
3D erotic and instant-death game

This title is a third-person 3D action game.
There is a variety of action and puzzle-solving content, including trap evasion, sneaking to hide from enemies, and combat using magic to defeat enemies.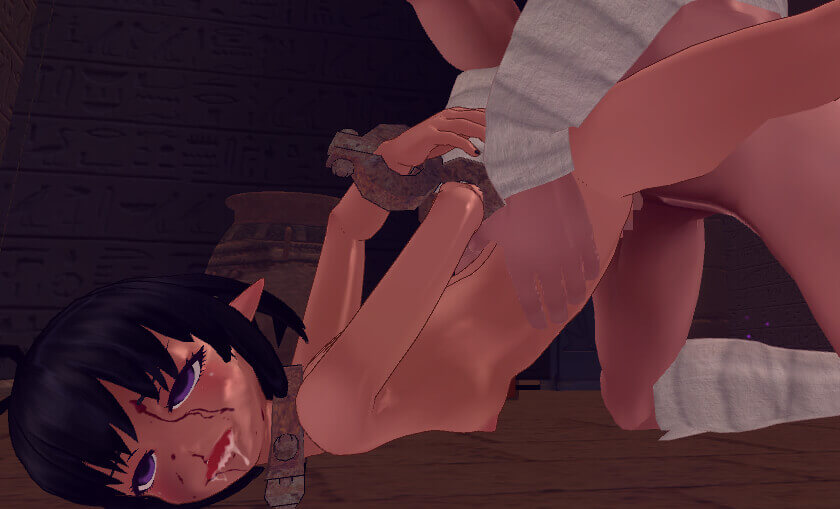 But, since the game is designed to be a deadly game in which a mistake leads to an immediate game over, there may be times when some players get stuck. Although the early stages of the demo version were actually the most severe, so if you can get through this stage, you can consider yourself able to play to the end.

As you can see, the game has a strong ryona component, with a few H scenes, but in many cases the heroine ultimately ends up dying. The number of ryona-scenes is also very strong, so it is probably intended for those who can enjoy both.
A little trouble collecting scenes?

There are a few dress-up and clothing collection elements in this title, as well as a full set of scene recollections. Although there is no way to unlock all the scenes after clearing the game, the game comes with a strategy text, so collecting scenes and clothes was not that difficult.

However, the lack of checkpoints for retries may be a concern.
If you are aiming to clear the game, this is not a problem, but if you want to enjoy the trial-and-error process of filling in the recollection scenes, you may find the "unskippable direction" a bit troublesome.
Afterword
This time, unusually for me, I introduced a Ryona game.
The term "Ryona" covers a wide range, but this game is one of the hardest of them all, with a lot of gore.
Although it is a work that chooses its audience in terms of gameplay and taste, the character modeling is very cute, and I think this is a major attraction of this work.
If you are curious about Eliza-chan's buttocks, you should definitely try the demo version.