Ci-en作品集・退魔忍編-弐- is a small visual novel about the exploits and defeats of a group of demon slay girls.
Fighting heroine's hapless defeat rape

This is a collection of works

focusing on the heroine's hapless defeat and rape.

A strong and confident heroine is unexpectedly defeated. The girls succumb to the unrelenting pleasure torture. This is a story with no redeeming features that will send girls tumbling to a bad end.

The three episodes included in this work are "徒党を組む上級悪鬼(Advanced Demons in a Gang)", "幻惑へ誘う妖怪(Specters Luring You into Illusion)", and "館に潜む妖魔(Demons Lurking in a House)", all of which have bad endings without branching.

The sex scenes tend to deviate a bit from the standard humiliation and are more tormenting in nature, such as seed feeding with a huge cock, illusions and lesbian rape by a female demon, restraint and anal development, and futanari-ization.
The heroines can't stop screaming in front of the fierce torment. Therefore, there are no "girlish and adorable sex scenes".

In addition, many of the works of the same circle have female characters as the tormentors, and the verbal abuse that encourages the heroine to show her lasciviousness is a common feature.
About the 退魔忍 Series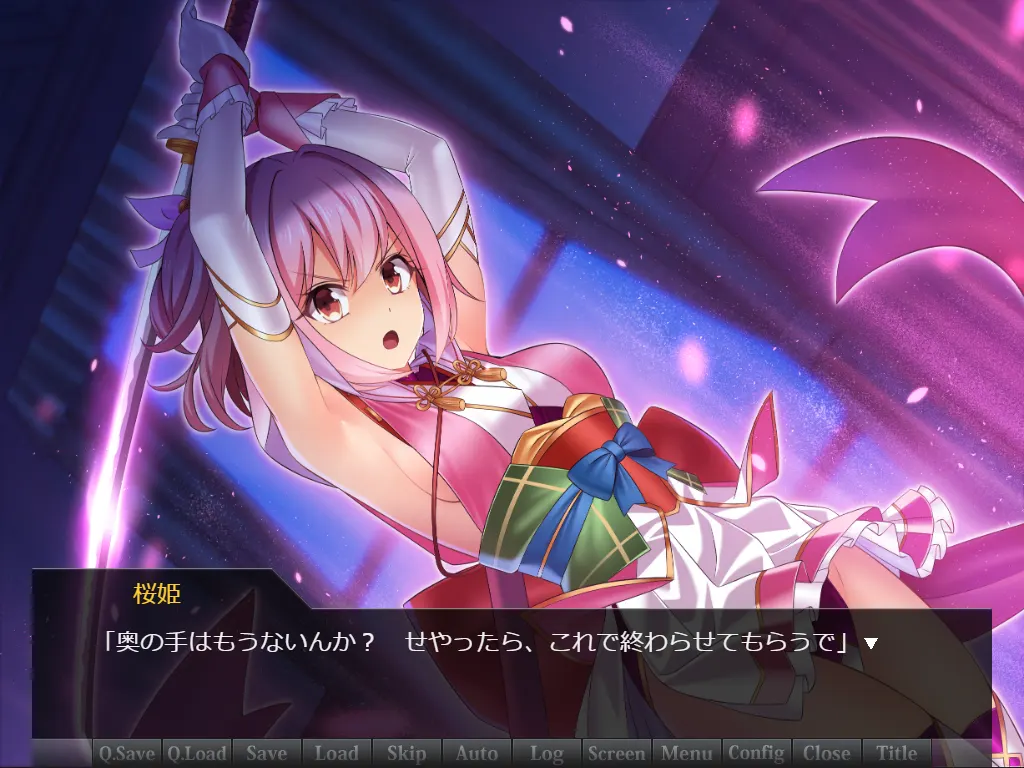 The 退魔忍 series is an original work drawn by the artist めかぶ亭 on Pixiv.
After working as a doujin circle, she developed her novels and illustrations as one of the signature works of the circle. Compared to the Magical Girl Bad End series of the same circle, this work has gained popularity as a work depicting a hapless defeat rape with a slightly stronger Lyonnaise flavor.

There are many illustrations and novels that are only available on Pixiv, so if you want to delve deeper into the world of the work, be sure to check it out.
A compilation for circle fans

This is a collection of short stories published on Ci-en and re-edited in the form of an ADV.
It's a bit small when viewed as a normal visual novel, but it's cheaper than buying all the Ci-en back issues, so it's reasonable for fans of the circle.
Past works are also recommended
If you like this work, I also recommend the previous work Ci-en作品集 退魔忍編-壱-.
This one is an HTML novel with illustrations, but I liked the way it depicted the bad ending of the three demon slay girls.
The Magical Girl Bad End series is also a good choice if you prefer a milder kind of defeat.
There are a few things to keep in mind, such as the fact that some of the products have separate pre and post parts, but this is a series of works that depicts the defeat and rape of transforming heroines with a similar taste to this one.